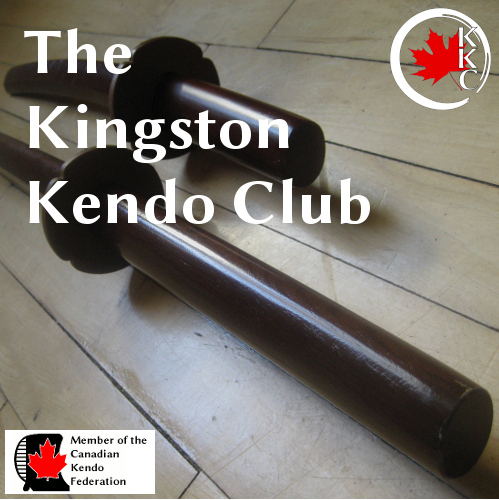 Web-hosting generously provided by
TheWebforBusiness.com
Kendo, "the way of the sword", is the art of Japanese fencing. The goal of modern Kendo is to foster self-confidence, build strong spirit and character, respect for oneself and for others, as well as increase one's physical fitness. This is all accomplished through the discipline and etiquette of training in the martial arts.
The Kingston Kendo Club is the first Canadian Kendo Federation sponsored Kendo club to open in Kingston, and is open to all members of the community.
Men and women throughout the world practice Kendo together at all levels of skill and we hope to continue this by attracting members from all different age groups and backgrounds.
Date
News
"2-Finger Scrolling" Enabled
Jul 2, 2018

Summer Classes End

Due to gym renovations our official practices have ended until September. Unofficial practices will be held outdoors during the summer on a "To Be Announced" basis. These classes will be announced via e-mail and through the FB group.

Jun 8, 2018

Class Cancelled

Classes will be cancelled on Jun 12, 14, and 16.

Mar 1, 2018

Class Cancelled

Class will be cancelled tonight, Mar 1.

Feb 27, 2018

Class Cancelled

Class will be cancelled tonight, Feb 27. Sorry for the inconvenience, but I'll see you all Thursday.

Feb 10, 2018

Class Cancelled (Illness)

Class will be cancelled today to avoid spreading around this bug I seem to have. See you all next week.

Jan 25, 2018

Class Cancelled (Illness)

I apologise to everyone for all of the cancellations of late, but classes will have to be cancelled again this Thursday, Jan. 25 and Saturday, Jan. 27th due to being ill.

Jan 23, 2018

Class Cancelled (Weather)

Due to the nasty weather, we'll play it safe and cancel class tonight, Tuesday, Jan. 23.If you are not receiving e-mail notices regarding cancellations, send the club an e-mail asking to be added to the e-mail list, or join the club Facebook group

Jan 21, 2018

Class Cancelled

I apologize to those who showed up on Saturday, Jan. 20th; classes had to be cancelled due to illness. If you are not on the club e-mail list, or in the club facebook group you will have missed the announcement. Please send an e-mail to the club and I will add you to the list or join the FB group.

Jan 5, 2018

Classes Resume!

Our classes will resume for 2018 this Tuesday, Jan 6th.Tuesday: 6pm-7:pm (Mixed)Thursday: 6pm-7:30pm (Bogu)Saturday: 9:30am-10:30am (Beginner)Saturday: 10:30am-11:30am (Mixed/Bogu)

Aug 1, 2017

Updated KKC Dojo Manual Available

The updated version of the club dojo manual is now available.