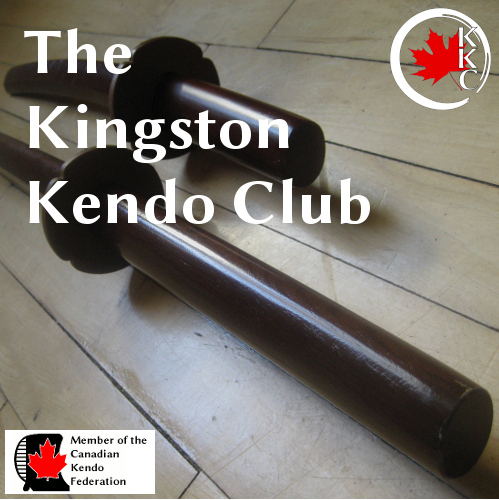 Web-hosting generously provided by
TheWebforBusiness.com
Kendo, "the way of the sword", is the art of Japanese fencing. The goal of modern Kendo is to foster self-confidence, build strong spirit and character, respect for oneself and for others, as well as increase one's physical fitness. This is all accomplished through the discipline and etiquette of training in the martial arts.
The Kingston Kendo Club is the first Canadian Kendo Federation sponsored Kendo club to open in Kingston, and is open to all members of the community.
Men and women throughout the world practice Kendo together at all levels of skill and we hope to continue this by attracting members from all different age groups and backgrounds.
Date
News
"2-Finger Scrolling" Enabled
Dec 24, 2016

Happly Holidays!

Happy Holidays to everyone!!

Dec 10, 2016

Class Cancelled

Sorry for the short notice, but today's class will be cancelled.

Nov 22, 2016

Class Cancelled

There are repsirs going on in the gym tonight so class will be cancelled. We will resume regular practice Thursday, Nov 24th.

Sept 6, 2016

Classes Resume

Classes officially resume today, Sept 6, 2016!

Aug 14, 2016

Summer Classes End

The school will be undergoing the annual maintenance of the gym floors, so classes will be cancelled until September. However, during this time we often have "Practice in the Park" instead, at our usual class times. I will e-mail everyone, confirming the class usually the day before and weather permitting will will have practice on the waterfront park beside Murney Tower.

June 4, 2016

Class Cancelled & UofT Kata Seminar

Two upcoming cancellations to announce. The first is that class is cancelled on Saturday, June 11th as I will be away. The second is class is cancelled on Saturday, June 18th as the Kendo Ontario kata seminar is held in Toronto at the UofT Kendo Club that day.

May 5, 2016

Class Cancelled

Just a heads up that tonight's class is cancelled.

April 15, 2016

Classes Cancelled

Hey everyone, just a reminder that classes will be cancelled until Saturday, April 30th.

April 6, 2016

Temporary Class Time Change

As the gym is being used during our normal Saturday practice times for the next couple weeks, classes will be bumped or cancelled. This Saturday, April 9th, class will be held at 6pm instead of the usual 9:30am. The second hour will be an "open" class and all members are welcome to attend.